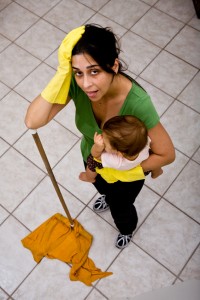 Are you tired of cleaning? Do you need help keeping up with your household chores? We can help!
We offer the following cleaning services:

Recurring Services
Monthly Cleaning
One Time Cleaning
Move In and Move Out Cleaning
Post Construction/Remodel Cleaning
Our goal is have you come home with one less thing to worry about. You will come in to a clean, organized, environmentally safe home. We primarily use GREEN products as we believe very strongly that this is important for you, your family, as well as our environment. (We are also happy to talk to you about using green products for the most part and using the occasional chemicals that may be needed to get things done in order to properly maintain your home.)  When you use natural and biodegradable products, you and your family will have a healthy cleaning experience and at the same time protect your health against harsh chemicals.  Your home is a very important place. It is where you and your family live. As the owner I feel it is my job to make this place safe and clean.
My company and its reputation is very important to me. We do not have significant staff turnover so you get to know your team and can rely on their consistency. My employees do not smoke, eat, or drink while in your home. They all have children therefore are very child friendly and are happy to work with pets in the house. They do not answer the telephone or doorbell unless you have requested they do so. They are there for one reason: to provide you with clean homes and offices.
Example Rates for Regular Cleaning (2 times per month):
2 bedroom, 1 bathroom, bi-weekly: starting at $95
3 bedroom, 2 bathroom, bi-weekly: starting at $115
4 bedroom, 2.5 bathroom, bi-weekly: starting at $150

Initial Cleaning is always a deep cleaning and priced individually.  We will come to your house (no-charge), do a walk through and give you an estimate for your first cleaning.

Additional Services offered:
• Oven Cleaning
• Refrigerator Cleaning
• Deep Cabinet Cleaning
• Special Furniture Treatment

Call today for a free estimate for your home.